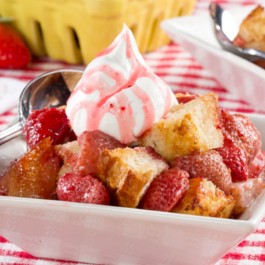 Courtesy of Mr. Food Test Kitchen
Servings: 6
Prep Time: n/a
Cook Time: 35 Min.
* 1 qt. fresh strawberries, washed, hulled, and sliced
* 1/3 c. sugar
* 1 Tbsp. cornstarch
* 1/2 loaf French bread, cut into 1/2-inch cubes (about 4 cups)
* 1/2 c. (1 stick) butter, melted
1. Preheat oven to 375°F. Coat an 8-inch square baking dish with cooking spray.
2. In a large bowl, combine strawberries, sugar, and cornstarch; toss to coat. Add bread cubes and butter; mix well. Spoon into baking dish.
3. Bake 35 to 40 minutes, or until bubbly and bread is golden. Serve warm.

Recipe and Image from the Mr. Food Test Kitchen
© 2018 Ginsburg Enterprises Incorporated. All rights reserved.