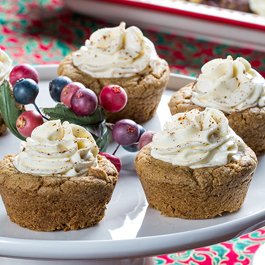 Courtesy of Mr. Food Test Kitchen
Servings: 20
Prep Time: n/a
Cook Time: 15 Min.
Chill Time: 60 Min.
* 2 (14-1/2-ounce) packages gingerbread cake and cookie mix
* 1 c. heavy cream
* 1 (8-ounce) package cream cheese, softened
* 1/2 c. sugar
* 1/4 c. eggnog
* 1/4 tsp. ground nutmeg
* 1/8 tsp. ground cinnamon
1. Preheat oven to 350°F.
2. Prepare dough according to package directions for cookies. Roll dough into 20 balls, place in muffin cups, and lightly press dough down.
3. Bake 10 minutes, remove from oven, and make a well in center of each cookie cup using a wooden spoon handle or small juice glass. Return to oven and bake 4 to 5 more minutes or until set. Press down lightly in center of each cookie cup. Let cool 10 minutes, then run a knife around edges to loosen slightly. Cool 10 more minutes then remove from tin and finish cooling on wire rack.
4. In a medium bowl, beat heavy cream until stiff peaks form. In another medium bowl, beat cream cheese and sugar until creamy. Add eggnog, nutmeg, and cinnamon and beat until mixed.
5. Fold whipped cream into eggnog mixture until thoroughly combined. Pipe or spoon mixture into cookie cups. Refrigerate 1 hour or until ready to serve.

Recipe and Image from the Mr. Food Test Kitchen
© 2018 Ginsburg Enterprises Incorporated. All rights reserved.